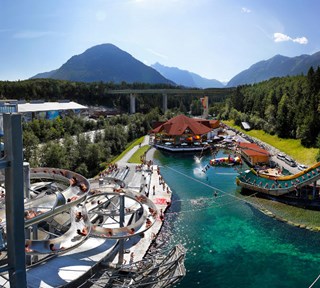 Area 47
Rafting, canyoning and more outdoor-adventures, events and water fun at the outdoor park in Tyrol
Haiming, Sautens and Roppen – these are not the names of the new hero of a book called "Lord of the Mountains", but the three villages in the Tyrolean Ötztal valley, next to the world's greatest adventure playground for kids, teens and adults: the AREA 47!
At the ultimate adventure park in the Tyrol you will experience action and adrenaline kicks in an unprecedented way. The spectacular venue for your holiday in the Tyrol owes its name to the 47th parallel – and face it: You have to visit the park at least 47 times in order to have experienced all the attractions that the AREA 47 and the Ötztal valley have to offer!
Water fun, thrills, climbing fun: Activities in the AREA 47
From late April to late September, the AREA 47 at the entrance of the Ötztal valley offers an incredible variety of action-packed deals:
Event AREA: concerts, sports and stunt shows, parties and corporate events including catering – Ötztal Dome and River House.
Water AREA: 20,000 m² mega water fun with 7,000 m² bathing lake, water slides park, climbing AREA and playground for beach soccer and beach volleyball.
Group action for school groups, clubs, meetings & seminars, corporate team days and corporate events: Cool packages for your group!
Living AREA with wooden tepees, lodges and double rooms on the site of AREA 47 for one or more nights with breakfast.
Exploring AREA: Useful information about your stay at AREA 47 – Food AREA, Outdoor Gym, Sunup Sports Shop and many more.
Area 47 TV, 3D Tour and picture gallery: So that you can experience some of the attractions that await you at AREA 47!
Arrival, opening times and prices, booking options: AREA 47 info
The ultimate adventure park in the Ötztal valley can be easily reached by car, train or plane. To plan your journey, we recommend the use of a route planer. You can park your car at the designated parking areas in AREA 47. With one click you will find out everything about opening times and prices in the AREA 47. You can easily send your inquiries online.
For more information see: Area47